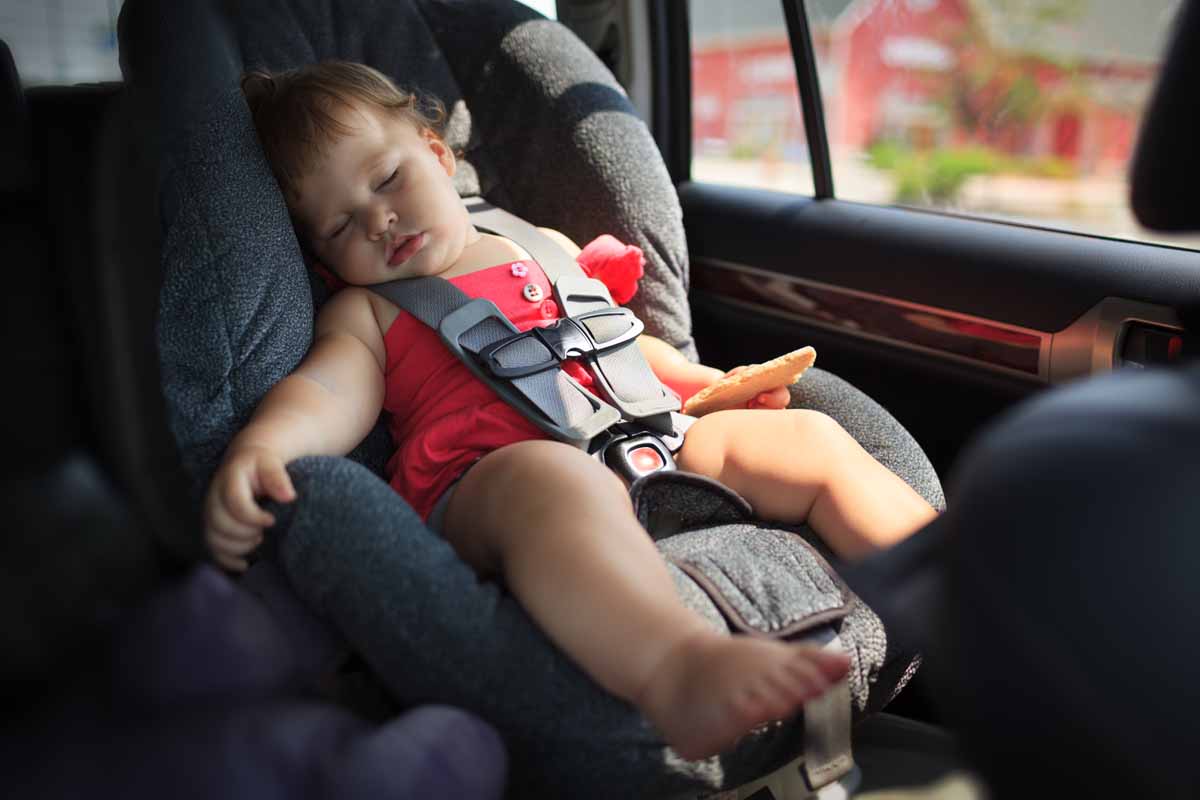 The summer months are upon us, and with them, many hidden dangers for our children.
The number of accidents and injuries involving children can skyrocket during the summer for many reasons.
One family recently experienced the worst tragedy anyone can face, but with a plan in place, you can make sure this doesn't happen to you.
A Virginia couple has lost both of their five-month-old twins, with one twin initially in critical condition after they were accidentally left for hours in a hot car.
While some may judge them, keep in mind, this could happen to any of us.
Parents are often overworked, tired, and juggling dozens of responsibilities at once.  And just a moment of forgetfulness can lead to tragedy.
CBS News 6 reported:
Neighbors say the father of the children found them in his SUV.  A woman who lives a few doors down defended the children's parents through tears.

"They go to work, they come home to their kids. They're not any trouble, they're awesome," the woman, who declined to be identified, said.

"It's tragic what happened, I don't even know how to help them with their pain. It was certainly not an intentionally negligent act, it was a horrific mistake that can never be erased," another neighbor, Donna Gusti, said. "One of them is always home with the kids, they're working on their schedules, it's hard, it's been really hard trying to do it all and have babies but they're doing it."

The woman who lives next door to the family said the wife was at work Thursday afternoon when she called her. "His wife called me at 2:00 to wake him up to come and get her from work and that's when everything happened. That's when he found the babies in the car," the next door neighbor, who declined to be identified, said.

She believes the husband just forgot the babies remained in the car when he got home from dropping his wife off at work.
As is most often the case when this tragedy occurs, it was completely accidental.  Many parents who leave their children in hot cars are running late to work, somehow off their typical routine, or simply forget.
Thirty-eight children die annually in hot cars in the U.S. alone, with more than 600 in the last two decades.
A small percentage of these deaths is deemed to be intentional, meaning a parent thought their child would be safe waiting in the car while they ran an errand.  This situation, in particular, is one that is easily preventable.
It is never, ever, safe to leave a child alone in the car on a hot day.  Illness and disorientation can occur within a few minutes.  Even on a mild day with temperatures in the low 70s, a car's interior temperature can rise by 40 degrees in a half-hour.
For the rest of us – parents who are off their routines, running late, exceptionally tired or stressed out, making a plan to remind ourselves that our kids are in the car is key.
This plan must be something that works for you and your family, and something that you practice and never deviate from.  And once it becomes a part of your daily routine, your child's safety increases greatly.
While there are high-tech devices available that notify a parent with sensors or alarms if their child is left in the car, these are not yet standard in vehicles – and it will be years before these devices are implemented in every new model.
They are also cost-prohibitive  — while all of us would pay any amount to keep our kids safe, it is just not a financial possibility for some.
The good news is, there are many low-tech, simple tips out there for keeping our kids from being left behind in vehicles, and we've compiled a few for you here:
*Use your cell phone:  Parents can set an alarm on their phones to remind them that their child may be in the car.  When running errands, estimate the time it will take you to arrive at your destination and set the alarm for that time.  When going to work in the morning, the alarm can be set for the time you usually arrive at work, and vice-versa on the commute home.
Some families also create a "neighborhood watch" of sorts.  Ask a family member or neighbor to call you at a certain time whenever you leave the house with the kids around the time you expect to arrive at your destination or arrive home. 
You can make a plan with a neighbor to keep an eye on each other during the times you typically return home each day, even checking in the car if need be to make sure the kids are not left behind.
(The tragedy mentioned above occurred in the family's own driveway when the father forgot to grab the children from their car seats when returning home.)
*Use the items you always have with you:  While it may seem strange to think someone may forget their children but not their purse or briefcase, it happens.  Some parents or caregivers alternate routines with the kids, but what they carry in to work each day is likely to stay the same.

Set your purse, briefcase, or phone in the backseat of the car so that you have to check in the back before leaving the vehicle. 

This can also be done with a toy or stuffed animal, whereby you keep the toy in the car seat when the child is not in it and put it in the front seat next to you when the child is in their seat.  When you take the child out again, put the toy back in the seat – every time until it is routine.  This serves as a visual reminder up front next to you, and also becomes a habit when done every time.

Perhaps the best object reminder?  Some parents will remove one shoe and place it in the back seat every time they drive.  No matter how forgetful we become, we would probably never walk anywhere with one shoe off.

*Another visual reminder:  Place a bright sticker, tape, or string on the steering wheel every time you get into the car with your children.  Keep these items handy where they can be easily seen and attach to the top of the steering wheel for a reminder that will be right in front of your eyes when you exit the car.
There are many ways we can set reminders for ourselves, but the key is to practice these every time we leave the house with our children until they become second-nature.
Variations of these ideas can also be used to remind us to take our car keys with us – many children become violently ill when we accidentally lock ourselves out of our cars before getting them from their car seats.  It can take time for help to arrive – even the few minutes it may take to break a window can be dangerous — so prevention is the best option.
And don't forget, these tips can be used for pets in the summer months – and for children all year long.  Long exposure to cold weather in the car can be serious, as well, and it is best to stick to our reminder plans every day of the year.
Do you have any tips for reminders or a plan that you have adopted to keep your kids safe from being trapped in a hot car?  Leave us your ideas in the comments.
Comments
comments