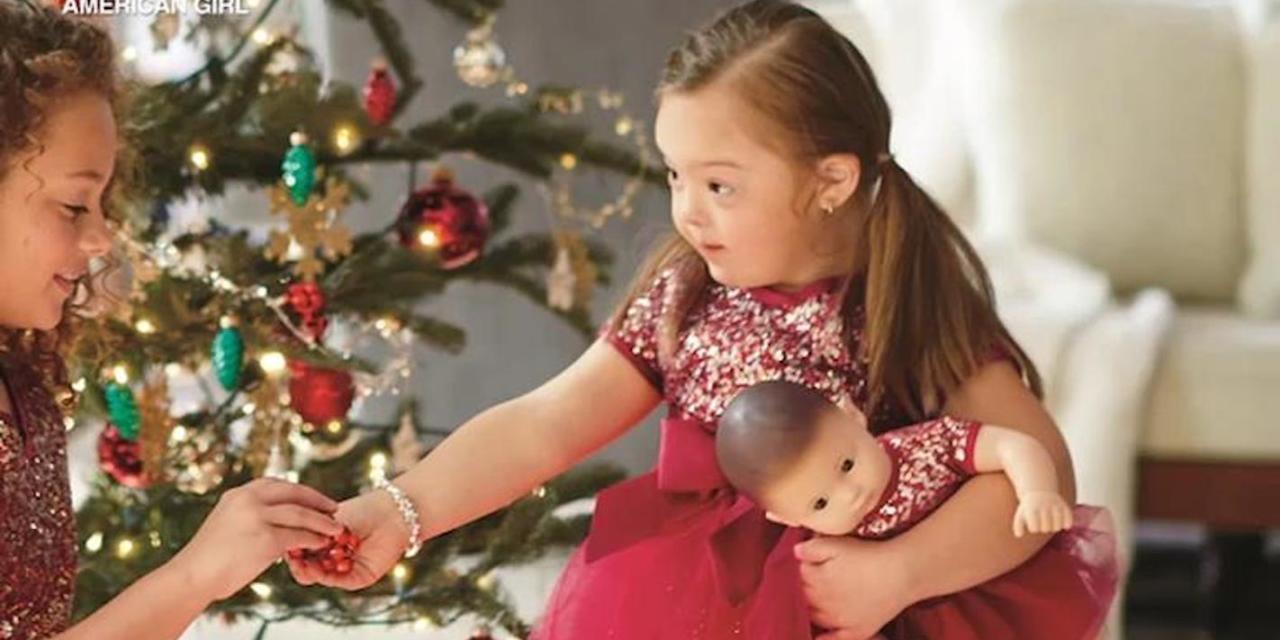 For more than 30 years, little girls have longed to own an American Girl doll – which comes complete with a decked-out doll and an accompanied book.
It's seen as a status symbol to own one of these dolls, and little girls everywhere flip through the American Girl doll catalog looking to see which doll they'd like to own.
But the latest American Girl doll catalog took a different turn this month, and moms everywhere are touched at the latest model.
During a casting call for little girl models, one mom took her daughters to the call, and was shocked when they selected her daughter to be featured.
Of all her daughters, American Girl picked her 4-year old daughter Ivy, who has Down syndrome.
It's reported little Ivy stole their hearts during the casting call session with her bubbly personality and charming demeanor.
The little girl's mom told USA Today her daughter's "magnetic personality" draws people in and that people everywhere "love her."
And now little Ivy will have the chance to win even more hearts, as her photo is printed and viewed by little girls all around the country! 
Although it's estimated more than 60 percent of Down syndrome babies are still aborted in the United States, the tide is finally turning on embracing and accepting these precious babies.
Gerber selected a baby with Down syndrome to be the official Gerber baby, shattering all stereotypes of what a Gerber baby "should" look like.
In addition, many individuals with Down syndrome have won the hearts of Americans by showing they too can participate in dance competitions and modeling contests, just like everyone else.
And let's not forget Frank Stephens who boldly testified before Congress, pleading with legislators to respect the value of his life and all other children with Down syndrome.
While some countries like Iceland still have a 100 percent abortion rate for babies with Down syndrome, let's pray the United States continues to pave the way at highlighting the beauty and dignity of every life, including those with Down syndrome.
Having an intellectual disability doesn't make a life less valuable.
Ivy's mom was thrilled her daughter was selected and hopes those who see Ivy's photo will help start a long term conversation to highlight the importance of starting a conversation on those with special needs. 
But in the short term, she's happy with the positive steps in the right direction.
USA Today reported:
"You need to feel like you're represented in the world. You need to feel like you have a place in the world. And I think it's so important to see that," she said. 
And with American Girl featuring sweet 4-year old Ivy in their catalog, little girls will have the opportunity to celebrate ALL American girls this Christmas season. 
What are your thoughts on American Girl featuring a 4-year old with Down syndrome in their catalog?
Do you agree this is a step in the right direction?
Tell us your thoughts in the comments below!
To stay current on the latest Mommy Underground stories, subscribe to our YouTube channel. And don't forget to follow us on Facebook and be sure to like and share our posts!